Play. Listen. Grow.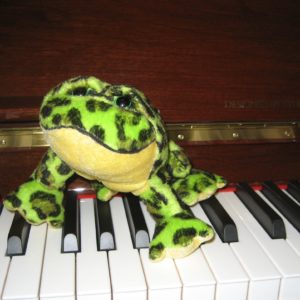 My students play in both senses of the word. We have fun in the studio, playing games, using our imaginations, improvising and exploring. A spirit of playfulness and creativity colors lessons, especially for my younger pianists. We don't just talk about notes, we play them. Students learn more by seeing a demonstration, hearing a passage played beautifully and by trying a skill themselves; than they learn from an explanation.
Good musicians listen to themselves and to others. I help students to focus on the sounds they are creating, to form their own opinions about those sounds and to set goals. Twice a year they participate in Performance Workshops. Each child gets a chance to play on a beautiful grand piano in front of their peers. In turn, they listen to each other and provide constructive feedback. Older students listen to recordings once a month and are challenged to think and reflect upon what they hear.
It is so rewarding for me to see my students grow musically. I create individualized lesson plans for each student, incorporating a mix of review and new skills. I take great care to give them a solid foundation of technique so that they can express themselves though music. Students study music theory, create their own compositions, develop aural skills, improvise and sightread in addition to learning to read notes fluently.  Not only do students develop their musical skills, but they also develop confidence and stage presence as they gain experience playing for others in the workshops and our recitals.
To put it simply, I encourage all my students to play, to listen and to grow.