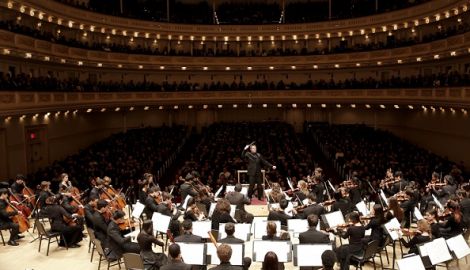 Last year my students and I went to the Steinway Factory in Astoria. It was a fascinating tour. You can read more about that trip here. This year, students attended concerts at Carnegie Hall and were inspired by live music.
On Sunday, March 24, advanced students attended the New York Youth Symphony concert.  They heard the world premier of Paul Dooley's composition "Run for the Sun". The music was so energetic and lively. Students were really impressed with Louis Schwizgebel's performance of Ravel's "Piano Concerto for the Left Hand". It was written for a pianist who lost his right arm fighting in World War I.  You can learn more about this amazing ensemble of young musicians on their website: www.nyys.org
Younger students listened to the sounds and improvisations of Polygraph Lounge on Sunday, April 21. Mark Stewart and Rob Schwimmer coaxed music out of a long steel pole with a saxophone mouth piece and a conch shell. They also introduced kids to a fabulous instrument called a "theremin". One student was so impressed because Mr. Schwimmer played it without even touching it. Catchy songs like "Could That Be Music?" and "The Siren Song" stuck with us long after we went home.
Saturday, March 2, the Declassified showed us how much cooking and music have in common. You can beat eggs and there are beats in music. Cakes have layers and so do musical compositions. Cooks add spice to their dishes and musicians spice up their music with tango dance rhythms. We listened to a trumpet solo from Prokofiev's "Love for Three Oranges" and heard how Beethoven made a clarinet and a bassoon blend in his "Allegro Sostenuto" from Duo No. 3 in B-flat Major. They finished their performance with Martinu's, "La Revue de Cuisine" in which pots and brooms, lids and dish towels become the main characters of a musical love story.